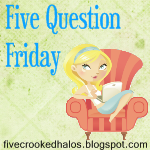 1.
What's your favorite childhood snack that you still eat as an adult?
When I was a kid I would spend all my allowance money on Bulls Eye candies. They are a thick caramel with cream in the middle. Yum! Recently I've been picking them up when we go to the produce market on Saturdays. I think I need to stop getting fruit so I can stop spending all my money on Bulls Eyes again!
2.
W
hat food will you not eat the low fat version of?
I pretty much don't care for the low fat version of anything! Sour cream and cheese are specifically gross in low fat versions.
3.
What's your favorite way to cool off during the summer?
I like to hang out in my air conditioned home and play on the computer, read a book, or play board games with my family.
4.
W
hat's your favorite summer read?
I don't really have a favorite summer read. I do enjoy being able to catch up on books I've been putting off during the school year due to lack of time.
5.
W
hat are you doing to stay cool in this awful heat?
See #3 above. Once we're home for the night I get in my p.j.s and hang out under the ceiling fan.