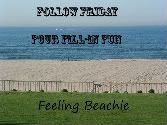 1.

Watching my dog Tilly eat

makes me laugh

. She is the laziest eater ever! Tilly will lay down on the floor, pull the food bowl over to her, and eat with her head in the bowl. IF she stands up to eat she will take a mouthful and bring it in front of the TV to eat with the humans.
2.

S

ometimes

watching the news

makes me sad

. For the most part I've stopped watching TV news, and I don't read as much as I used to, either. The things people do to each other just really gets to me. Natural disaster doesn't scare me nearly as much as the way people treat others.
3.

My

car

looks

terrible

after

a dust storm. Man, these "monsoon" storms are really frustrating me this year! The truth is we haven't really had a monsoon storm yet, but we've had a couple haboobs. I don't mind the dust storms themselves, but do they always have to drop just enough rain drops to make mud on my windshield? I can't wait for our first REAL thunderstorm this year!
4.

When I hear

Adele singing

I

get tears in my eyes. I don't know what is wrong with me lately, but it seems I get teary at the drop of a hat. My mom keeps hinting it could be my age. I think it's more likely that I am under a lot of pressure constantly and need a release. Anyway, I have recently discovered Adele. Her voice just has a quality that really grabs my attention. A couple of her songs have beats that touch something deep within me and let's me dance, sing, and really let go. I can't believe that girl is only 24-years-old!