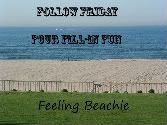 1.
I love a

great cup of coffee on a rough morning. Okay, any morning really. For some reason coffee at home just isn't the same. I love the hot drinks at the convenience stores even though they are loaded with calories. They are just an awesome "pick-me-up." Daniel recently found me an iced coffee at 7-11 that is WONDERFUL!
The only exception to the home-brewed coffee rule is when my friend Dan used to bring me a mug. When Dan and Mira were our neighbors, our kids would walk to school together, and the girls would play at our house after school until their parents would arrive in the evening. Many a morning Dan would pop by with a coffee doctored just the way I like it to say good morning and thank you for hanging out with the girls. Man, I miss them living next door!
2.
If I could
vacation
anywhere I would
go to Sea World. Daniel and I have never been on a traditional vacation in the 13 years we've been together. I REALLY want to take my family to Sea World. We're hoping that with me now having a full time job we will be able to afford a trip next summer. If not then, definitely the year following. We'll see how well that works out. I told the girls that I want to visit the Sea World in Texas since none of us have ever been there.
3.
When I grow up, I want to
do exactly what I'm doing now. I really do have it all. I'm married, I have two beautiful children, and I have a job I love. These are all the things that were on my list defining success for me since I was a child. It took me a bit longer to get here than I would have liked, but I still have plenty of time to enjoy it!
4.
T
he best
memories
I ever
formed went undocumented. I was thinking about this the other day when a friend of mine reminded me of a time we were young, silly, and a bit on the wild side. It was one of those memories that literally made me laugh out loud. I have scrapbook after scrapbook of times I thought I wanted to remember. They rarely get opened, and I've come to realize that the best moments were those that were so spontaneous I didn't even consider having a camera in my hand.