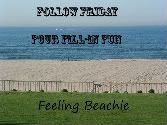 1.

I always

jump

when I

see a scorpion.

Ick! Those things scare me. So far I haven't been stung by one, but I'm guessing this is my summer. We've killed five in three days. One I almost stepped on when I had no shoes on. At this rate it's just a matter of time.
2.

Mental math

is very hard for me to do

. Shh.... don't tell my girls or my students. I try to encourage them to do math in their heads as often as possible so they can sharpen their skills, but honestly I have to use a pencil and paper for a whole lot more than I should. Ironic that I'll be teaching math in summer school. It's been said that teaching something is a great way to learn. Maybe I'll pick up some skills this month.
3.

Whenever I eat

ribs

,

I want to

wash my face every twenty seconds

. BBQd ribs are just plain messy. That's a fact of life. I remember the time my parents took my brother and me to a restaurant for all-you-can-eat ribs. The waitress came around to bring us finger bowls, and my brother had already started chowing down. His face was a mess! She offered to bring him a face bowl instead. Ever since then I've been really self-conscious about eating ribs with people outside my family.
4.

If I ruled the world

,

fear of mental illness

wouldn't exist and everyone would

be more understanding

. For years I have struggled to avoid friends and family when things were "off" at home. I knew something was wrong, but I really didn't know what. When Daniel was diagnosed with bipolar I started to understand a whole lot more and realized I had protected him and the people around us from seeing a side of him that is less than pleasant. Mental illness is scary, unpredictable, and not always easy to be around. In my perfect little world people wouldn't be so quick to judge others. We would all have a little more willingness to see past flaws and truly love a person for their special qualities. Let's face it, we all have parts of us that are not so perfect!