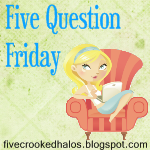 1.
What do you keep a stock pile of?
I don't really purposely keep a stock pile of anything. I buy when things are on sale, though, so we do tend to have a lot of "something" around at any time. Right now that happens to be tuna. For a couple of weeks, every time we were at the grocery store, either Daniel or I would insist we didn't have tuna in the pantry. We'd get home and there would be 10 cans already on the shelf. Oh well, we eat lots of tuna, so it works!
2.
If Ben & Jerry asked you to invent an ice cream, what would it be?
I think any ice cream I can imagine has already been invented. I like peanut butter ice cream with chunks of real peanut butter. Anything with coconut sounds good right now, too.
3.
How do you blow off steam?
Any time I need to, really. I try to release emotional pressure BEFORE I blow up, but that is not always successful. I try to take some time for me everyday, which is the best way for me to relax. Having a borrowed treadmill to use has been REALLY helpful in that area! I have been able to get in a little exercise every day. That goes a long way in blowing off steam.
4.
W
hat would you do if you had an hour to yourself anywhere within a ten mile radius of your home...no kids, no hubby, just you?
Fortunately this actually happens pretty regularly for me because Daniel is great about dragging the kids with him when he goes out to do manly errands like the Home Depot. I usually wind up reading a book, cleaning the house, or playing on the computer. I do all of these things when the kids are home, too. Lately I've been enjoying some time to myself shopping at the thrift stores. I need new work clothes, so taking an hour here and there has been nice. I get some time away, I get new clothes, and I don't spend a bundle.
5.
When you were 16, what was your curfew in the summertime?
My parents used the city curfew to guide them. Our city said 16-year-olds should be in their homes by 10 PM. So, whether it was the weekend or summer, it didn't matter. I was to be in the house by city curfew, and my parents believed there was nothing to do other than get into trouble after that time, anyway. I fought that argument for a long time, but now that I have children of my own I completely understand and agree. There is no reason a 16-year-old needs to be out past 10 PM unless it is a special occasion. Go to bed at a reasonable time, get up early the next morning, and hang out with your friends then. That way you'll have all day. I also don't agree with teenagers sleeping until noon. Even as a teen I was out of bed and ready for the day by 8:00 in the morning. I hate wasting days!