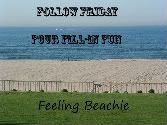 1.
I like to avoid

stressful situations

if possible

. Lately I just can't seem to handle stress. That's not actually true. The truth is that I simple have too much. I am doing well handling what I know and can anticipate. Any unexpected stress, though, will put me over the edge. I've had my fair share of breakdowns this week. I am SO ready for a nice, boring, routine life where Daniel and I both go to work, come home, and deal with the age-old question of which TV show to watch on Hulu. It seems like it's been years since decisions like that seemed important.
2.
Patience
is a virtue I do not have
.
Again I'm not sure this is really true, but it certainly feels that way lately. I don't do well with the unknown. After finding out Monday that I don't have a job for next school year, it seems all I've been able to think about is how to secure work. The good news is that my determination does pay off. I have three interviews lined up for next week already!
3.
Sometimes the

parents

are

the worst. I've got to say, this year I discovered that teaching is a lot more than just working with the children. I knew that, of course, in an intellectual way. Actually experiencing it, though, was a whole different ball game. A parent can praise a teacher up one side and down the other one minute only to turn around and file a complaint with the principal the next. Yep, I've had that happen. It's all about balancing what is good for the student vs. how much a teacher can handle. I've been known to give in simply because I didn't have fight left in me and can't get a parent to see the big picture. In the end I'm okay with that, to be honest. It is, after all, that parent's responsibility and right to make the decision he or she thinks is best.
4.
I think that

my girls

are the best

children ever! This school year especially, my daughters have REALLY had to handle a lot. Between my health and Daniel's, the girls have had to learn that sometimes things just don't go the way we had planned. Like all kids, they complain sometimes, but in the end they have really great attitudes. I hope next year we can provide a more calm and stable environment for them. This summer I plan to hang out with the girls and let them just be kids. We'll get daily chores done, but I'm not going to push them to do extra school work, reading, practicing instruments, etc. I think they need some time to just be kids.