Well, I MEANT to get this out on Friday, anyway. Oh well. Coming to you a little late, but that's the way my life goes lately. Life kind of exploded on Friday. More about that in a coming post.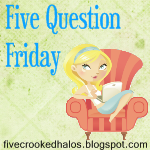 1.
If your husband had the BIG V and you got pregnant what would your first reaction be?
My husband HAS had the Big V, and it can definitely get stressful if I am late. No.... not because I've been fooling around. Just because this is SUPPOSED to be permanent, and I really do not want to have another child- especially now that mine are both old enough to really start doing things for themselves. When Daniel had the surgery the doctor made sure to tell him that occasionally these things DO reverse themselves. He should NOT assume I've been cheating on him if I do get pregnant. Every once in awhile he jokes around about the "what if...," but I don't even want to go there in fantasy land. Let's just hope we never have to face this situation. I would, of course, eventually be happy and love another child, but my FIRST reaction would be to sit down and cry!
2.
Best memory about this summer so far.
This is a toss up between the day I discovered I WAS going to be able to work instead of staying sick like I had been for months or yesterday when I found out I was offered a job.
3. How often do you change your sheets? Your kids sheets?
I'm TERRIBLE about this! I shoot for every week, but sometimes it goes quite a bit longer than that. The most is about a month. That's really bad, I know. It's tough to get everything done with two working parents and active children, though.
4. H
aving

just gone throug

h

TSA

, would you rather have a full-body scan or a pat-down?
I don't think I would have a preference. Either option seems scary and uncomfortable to me. I completely agree with and support the use of these, though, to keep us safe. In the end I think I would op for the pat-down. Nobody wants to see a picture of my body right now. Trust me.
5.
Since it is fair time...what's your favorite fair (county or state) memory?
Early in our relationship my husband and I went to the Arizona State Fair to see John Michael Montgomery in concert. It was AWESOME! After the show we rode a couple of rides. Somehow my then boyfriend pocket dialed my apartment. When we got back we had the three minute message to ourselves. We could hear ourselves getting on the ride (I don't remember which one) and riding it. The message was fun to keep and listen to over and over again.