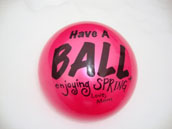 "Why send a card when you can send a ball?"
This is the catch phrase for the wacky, yet catchy idea behind this product called SendaBall. Instead of flowers or a card, you can send a truly unique gift using this product. SendaBall has gifts for all occasions: Get Well, Sorry, and Belated Birthday are a few of my favorites that really put a twist on gift giving. What I love about this product is that it is unique and fun.
The idea behind this gift is that it is mailed right through the post office. The recipient gets a nice surprise when he or she goes to check the mail. If it doesn't fit in the mailbox, there are instructions right on the ball for the mail carrier to leave it in a secure area. Imagine coming home one afternoon and finding a ball hanging around on your front porch. You go to pick it up to throw back to the neighbors, and it has YOUR name on it! We don't get fun packages in the mail too often anymore, so this would definitely be a great surprise.
As a member of QuestionMoms, I got chosen to do a review and bring this great product to you as well. From now through the month of June, you can SendaBall with a $3 discount. Just enter the code

Question1796 at checkout. The SendaBall is only $16, with $4 shipping so this gift would be perfect for an average budget.
It is fun and different

There is something for every occasion- you can even customize a ball

The price is right for an average gift
The price is a little high for someone I would usually just send a card to. I wish there were a second, less expensive choice for cheapskates like me

The product is not practical. This is TOTALLY something that is a personal choice for me. When I give a gift, I want to be able to have the recipient use it again and again. Unless the gift receiver were to have children who would like to play with the ball, it is fun to look at, but I'm not sure what else to do with it. As a disclaimer: I feel the same way about flowers, so I'm TERRIBLY difficult to shop for!
*Although I was sent this free gift to review, I was not paid for my opinion in any way. All of the thoughts I have about the product and company are my thoughts alone. I have not been swayed or paid for my opinion.