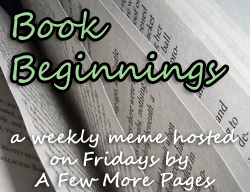 How to participate: Share the first line (or two) of the book you are currently reading on your blog or in the comments. Include the title and the author so we know what you're reading. Then, if you would like, let us know what your first impressions were based on that first line, and let us know if you liked or did not like the sentence. The link-up will be at A Few More Pages every Friday and will be open for the entire week.

I am reading "Water for Elephants" by Sara Gruen. Here is the first couple of lines: "Only three people were left under the red and white awning of the grease joint: Grady, me, and the fry cook."
I have to be honest- I started this book thinking I wasn't going to enjoy it. I hooked up to an on-line book club, though, and really wanted to participate. I thought I would force my way through this book so I could be part of the group. Wow, am I glad I did!
This is a great book, and it caught my attention right away. This author has a gift for making the reader want to continue turning pages to find out what else is happening. Told in two different time periods, as an old man is remembering his younger days, I want to hear what both the older man and younger man are thinking. It is not at all confusing, which is a challenge I often have with these types of books.
I can't WAIT to finish this book and watch the movie. Someone told me the movie is even better. What a treat! Watch for a full review of "Water for Elephants," and a book giveaway, coming soon!