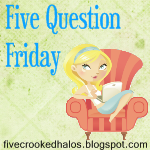 I LOVE 5 Question Friday, hosted by
My Little Life
! Please click on the button above to find more great blogs answering this week's questions. Sorry this is late this week. It's been a little crazy!
1. What is your favorite Easter tradition?
I really don't have a favorite Easter tradition. Since I do not consider myself Christian, I don't feel a connection to the holiday. My mom, on the other hand, does enjoy Easter, so she helps my girls to celebrate. We take the girls over there to decorate eggs, do an egg hunt, and to have dinner each year. If I had to say what my favorite tradition is, I would say the egg hunt my mom prepares for the girls. She puts "Grandma coupons" in some of the eggs, and they are for doing things that help the girls spend time with her. An example is coming over to make cookies or giving them $5 to go to garage sales. The girls really look forward to the "Grandma coupons," and I love that my girls get such a kick out of spending time with my mom.
2. Are you a "shower" or a "long, hot bath" kind of person?
I don't have the nicest bath tub in the world, so I don't find it particularly relaxing. Therefore, I'm a shower kind of person. My eczema also prevents me from soaking for too long.
3. C
an you

parallel

park and if so when is the last time you did it?
Nope! I never could and I probably never will. I just try to find a parking space that I can pull into comfortably. So far, I haven't had too many troubles finding parking. I don't know what I will do if I ever HAVE to parallel park!
4.
What is your

favorite

Easter candy?
That's a tough call! I like all kind of candy, to be honest. I don't care for Peeps, though.
5.
Easter: do you go all out with the Easter Bunny or focus on the religious
part of the holiday?
Please see my answer to number 1 to understand this answer. I don't focus on the religious part of the holiday, but we do explain it to our children in case they choose the Christian religion in their later years. I don't do the Easter Bunny, though, either, so my kids are really mostly stuck with whatever my mom does. They get baskets at my mom's house, and we really focus on the day being a family day.