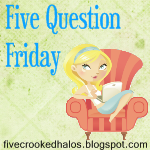 It's "Five Question Friday" just a little late this week! The last two days have been exciting and exhausting. I walked in my college graduation ceremony Friday evening and my parents had an awesome party at their house Saturday. Now, sit back and enjoy learning a little bit more about me through the five questions below.
1. If you could change one thing about yourself what would it be?
I would change the fact that I have a thyroid condition and possibly another autoimmune disorder that has not yet been diagnosed. The thyroid controls so many body functions, and there are a lot of problems that go along with having a thyroid condition. Even on medication, a person with hypothyroidism is not the same as someone with a "normal" thyroid.
2. Write about a time when you got lost.
I can't believe I am sharing this, but it is my best story about being lost. I "ran away" after an argument with my parents when I was about 14 years old. I was upset, so I just took off running, not paying attention to where I was going. I stopped at my "boyfriend's" house, and he told me I needed to go home. I got mad at him, so I continued running. I finally calmed down, and I realized that I really didn't have anywhere to go. I was ready to go home. Looking around, I suddenly came to the conclusion that I had NO idea of where I was. I stopped at a pay phone at a corner gas station and called my parents. They were fortunately able to figure out where I was by the one street sign I could see and a description of the surroundings. I was never so glad to be going home in my life. I sure am glad, too, that I grew up to be a better person than I was a teenager!
3. Camping or 5 star hotel?
I've really only been camping once in adulthood, and it was a miserable experience. On the other hand, I think a 5 star hotel is a waste of money. My dad has been preparing for a camping trip since he was given an RV last summer, and I am actually looking forward to giving camping another try. We are going to do the Great American Back Yard Camp Out on June 25th, so that will be a great start!
4. Have you donated blood?
5. Do you have a budget or do you 'fly by' most months?
We have a loose budget, but most of the time we pay what we need to for things. We used to live by the Dave Ramsey envelope system, where once the money was gone from each category envelope we were done spending. Unfortunately, the price of gas and food has fluctuated too much, and we need to be able to spend what the prices call for each week. Eating healthy has definitely raised our grocery bill, but in the long run I think it will be worth it.